Wound Care Healthcare Programs

Midwest Hyperbaric supports hospitals and Wound Care Centers nationwide with innovative solutions and services to enhance their facilities while providing access to advanced specialized Hyperbaric Medicine programs to optimize patient care.
We develop an individualized, comprehensive plan to help facilities of all sizes develop or expand their programs to gain a competitive edge in the industry and implement advanced wound care therapies, such as HBO Therapy.
Why Choose Midwest Hyperbaric
Our years of experience in the healthcare and hyperbaric industry allows us to bring strategic insight and expertise. Our multidisciplinary approach delivers cost-effective tactics including assessments, training, and continuous support to ensure healthcare goals and patient goals are met. We can help:
Assistance and guidance with the design and operation of the Wound Care facility
Development and integration of Electronic Medical Records
Provision policies, procedures, and documentation
And more
Whether your facility needs an assessment or integration of a Wound Care and Hyperbaric Oxygen program, we partner with you to create a cost-effective solution that fits your goals.
Our Wound Care programs utilize advanced modalities for the care of wounds that include but are not limited to:
Arterial insufficiency ulcers
Burns
Chronic ulcers
Diabetic lower extremity ulcers
Neuropathic ulcers
Non-healing surgical wounds
Pressure ulcers
Traumatic wounds
Venous leg ulcers
We proudly partner with WoundReference to empower wound care and hyperbaric clinicians.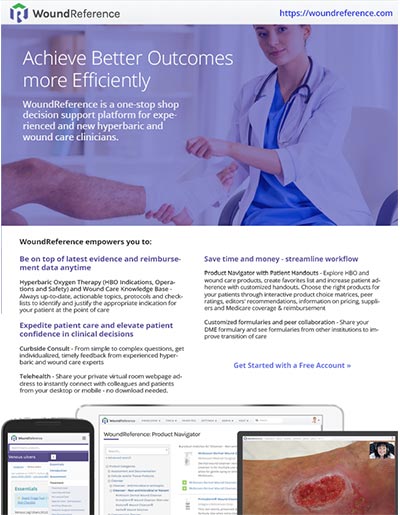 Schedule a Free Initial Consultation
If you're interested in learning more about how we can help your healthcare facility grow, contact us today.